Advertising on the Internet - behind this abstract term is a large pool of concrete tools that in skillful hands bring companies profit, increased sales, audience growth, fame and status. So what is online advertising and what types of it is divided into? We will talk about it in detail in this article.
Tasks of advertising on the Internet
Internet advertising is a set of tools that help businesses get new customers and increase sales. Every year, the share of online advertising in the overall advertising market is constantly growing, as companies allocate increasingly large budgets to it.
Among the tasks and goals that online advertising solves are the following:
Increasing sales;
work on brand image;
introduction of new products or services to the market;
expanding the geography of sales and coverage of CA;
reducing the cost of attracting customers;
gaining a competitive advantage.
Online advertising is suitable for any budget, so you do not need to be ready to immediately invest a significant amount of money for promotion. You can choose for yourself the tool that will match your capabilities at this stage of promotion.
Another undeniable advantage of online advertising is that it provides clear statistics of all actions with the help of web analytics platforms, for example, tracking advertising results in Google Adwords and Google Analytics.
No matter how effective online advertising tools are, in practice they have significant disadvantages that you should keep in mind when launching a campaign:
high competition - as we have already mentioned, more and more brands are advertising themselves online, so it is becoming increasingly difficult to stand out and attract the attention of the CA;
"banner blindness" - this term implies that users are so used to advertising that they simply do not notice it;
monetary risks - if you start cooperation with a specialist with weak competencies, there is a great risk of wasting money without getting the desired result. To customize an advertising campaign requires a lot of experience and constant monitoring of all advertising trends. Unfortunately, the market is full of newcomers-marketers, SMM-specialists, targetologists, etc., who promise to "increase business income in x2 in a month," but in fact can not fulfill the stated. Therefore, you should take the search for a performer very seriously.
If you want to start promoting your business on the Internet and are looking for a responsible and professional team, IT-company MEGASITE is happy to offer its services. We invite you to a free consultation, during which we will discuss your project and answer all your questions.
Types of advertising on the Internet
Let's take a closer look at the most popular types of online advertising, which have fully proven their effectiveness.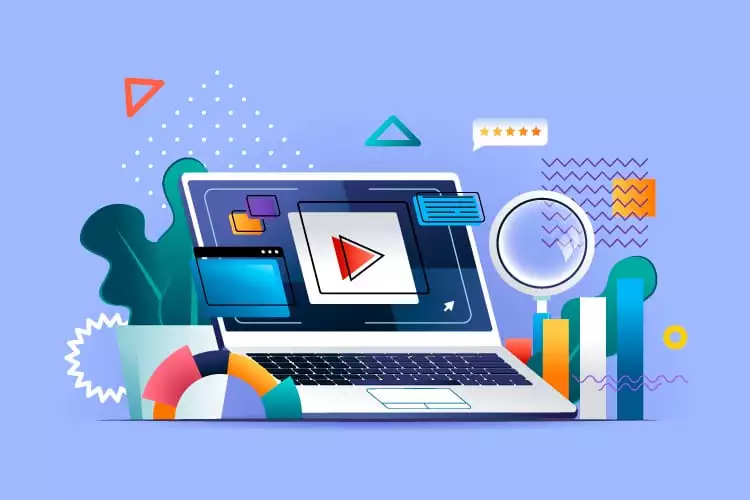 SEO
SEO-promotion of websites is a certain set of actions that bring the site to the first page of Google for the desired queries. This tool makes it possible to bring to the site actual target traffic, namely users who are already interested in your products or services. Promotion of sites involves a sufficient amount of time to work, as the first results do not come before 2-3 months. However, the first positions of the issue for some time are retained for you even after you stop doing SEO.
Google advertising
In fact, advertising in Google is contextual advertising (PPC - pay per click). These ads are shown to the user at the top or side of the main non-commercial output and are labeled "ads". Contextual advertising is divided into the following types:
search ads: shown to users when they enter a search query of interest to your company. Search ads are displayed at the top and bottom of the Google search results page;
banner ads: media or banner ads are shown on Google's partner sites in the form of banners. The search engine "selects" them depending on what sites previously visited and what the person was interested in;
product advertising: display of ads with goods through Google Shopping and Google Merchant. Unlike text ads, this type of ad shows a photo of the product, its price, name, store, etc. Merchant ads are one of the top tools for promoting e-commerce websites;
video ads: this tool is significantly different from other types of contextual advertising, as creatives are placed not in Google itself, but on YouTube and Google Adsense resources; video ads are increasingly popular due to high retention of users' attention;
retargeting: this is a tool that allows you to "remind" yourself to the target audience that has already been on the site, but for some reason left it. Remarketing increases conversion and successfully "returns" the audience to the resource;
Targeted advertising: targeting allows you to customize the ad to a particular segment of the target audience, for example, by gender, interests, place of residence, for a certain time of day or week. Targeted ads are displayed on Google's Contextual Media Network (CMN) sites, YouTube, mobile apps and Gmail;
Email Newsletters
Email marketing is a way of promoting through emails to a customer base. The main goal of these newsletters is to compose an email so that it is opened, read and takes a targeted action, rather than immediately sent to the spam folder. With the help of email newsletters, the company builds trusting relationships with its customers, informs them about discounts and promotions, sends receipts and personalized offers. An important condition for this tool is that customers must agree to receive emails from the company.
Native advertising
It can be difficult to reach the target audience, because people are often apprehensive and biased towards advertising. That's why content marketing or native advertising comes to the rescue here, which unobtrusively and discreetly tells about your company or product, while giving the reader the benefit. It can be a blog on the company's website discussing topics related to your niche. Also, native advertising includes placing expert articles on third-party sites, maintaining a YouTube channel, or a Telegram channel. The most common formats of content marketing - expert materials, useful guides, instructions, reviews.
Web studio in Kiev MEGASITE is ready to take on the promotion of your company. We have a great, and most importantly successful experience in working with different business niches, which resulted in increased profits of our clients.