The digitalization of society is progressing and the growth in the number of online stores is constantly increasing. Nowadays, there are no low-competitive niches in e-commerce, so to attract visitors to your online store you need to constantly test new tools and optimize old ones. In this article we will talk about what online advertising is most effective for online stores, and help you decide on the choice of marketing channels for your business.
Features of online advertising for online stores
Before you start advertising an online store, you need to be 100% sure that the site is ready to meet the needs of visitors. What does this mean? Online store will have to compete not only with the same sites, but also with the giants of the market - marketplaces. Therefore, so that the buyer after switching from advertising stayed on your site and made a purchase, his path should be as easy and comfortable as possible, starting from the catalog, and ending with the payment page.
Remember your trips to the supermarket - the goods in all departments, racks and on the shelves are arranged in a certain order, and the plan of the store is designed so that the goods can be easily found and quickly buy. The same logic should apply to online store sales:
make sure that the product catalog is well thought out and logical, and that the filters work properly;
make sure that all product cards, shipping and payment pages are fully populated;
test the loading speed of the pages;
make the buyer's path to the shopping cart as easy as possible.
Only after you improve the usability of the online store, you can start promoting the site. Otherwise, no matter how well the advertising campaign was not set up, sales will be at a minimum due to the fact that the site will be inconvenient for the buyer. To avoid such a problem, for the development of an online store, we recommend to contact professionals with a large number of cases on the creation of e-commerce projects.
IT-company MEGASITE has been on the market for more than 13 years, we have more than 900 successfully implemented projects, so our competence allows us to create modern online stores and successfully promote them on the Internet.
Types of advertising for online store promotion
Ways of promotion of an online store depend on the goods sold and the target audience. Let's take a closer look at each of the promotion channels.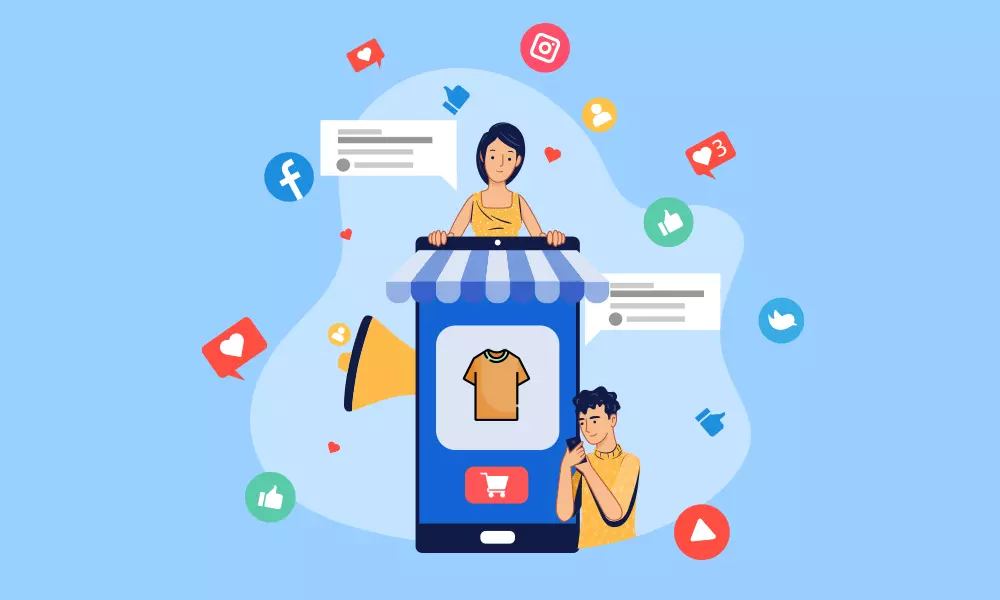 SEO-optimization
The leading tool for increasing the number of visitors is SEO-promotion of websites and online stores. With the help of this method, you can get an already interested CA on a daily basis. SEO involves a rather large pool of actions, but the time and budget spent is worth it. In return, you get a position in the top of the Google rendition, which is trusted by users.
To implement SEO in an online store, you need to perform two steps - internal and external optimization. Internal optimization includes:
building the correct site logic;
collection of semantic kernel;
linking between pages;
writing seo-optimized unique content;
Optimization of internal pages.
External optimization means building up link mass from other resources so that the online store looks more reliable and authoritative in the eyes of Google.
Contextual advertising
These are text, graphic, video ads that are shown to users if they enter in the Google search bar or are interested in a particular topic. Contextual advertising is convenient because immediately after launching leads the first visitors, unlike SEO. But it also stops working as soon as you stop funding it.
Types of advertising in Google:
Search ads - shown at the top of the screen, in front of the organic output. It is search advertising that is the most popular type of contextual advertising;
product ads - Google Shopping service, which is based on Google Merchant and the Google Adwords advertising platform;
targeted advertising - demonstration of ads for a specific audience with specified parameters;
retargeting - "reminding" about the online store for the audience that has already visited your site or put the product in the shopping cart, but never bought it;
banner advertising - creative that is published on partner sites through ADSENSE;
video advertising - posting videos about your product or store on YouTube.
Contextual advertising to promote an online store is best if you have popular products and they are often searched for.
SMM
Your store is not yet on social networks? Then get official accounts on Facebook, Instagram, Tik-Tok and emphasize the social network where your target audience is the largest. Publish products, talk about new collections and sales, communicate your business values and communicate directly with your customers.
Social media can be used for targeting, or you can use bloggers and opinion leaders to promote your products.
Email marketing
Email newsletters work great for increasing online store sales, but there are some nuances. Users are tired of spam, so your mailings should be as personalized as possible and not very frequent. Secondly, emails should be sent only after subscribers consent.
Content Marketing
In this strategy, businesses attract customers through useful content that is not aimed at "selling". That is, it is not a direct advertisement of the store, but the most native content, in which the benefit for a person is "sewn". The main channels of content marketing are:
maintaining a corporate blog;
YouTube channel;
publications in mass media on behalf of the brand;
training materials, guides, manuals.
The content marketing strategy is completely built on the interests of your target audience. Through your articles/videos you should sincerely want to give benefit to people, only in this case materials will really be popular and cause trust. In addition, do not forget to periodically do a competitor analysis to always be on trend. We emphasize that this recommendation is suitable for absolutely all types of online advertising.
Want to order advertising online store? Web studio in Kiev MEGASITE invites you to a free consultation on your project. We provide a full range of services on SEO and contextual advertising for multiple increase of sales in online stores of our clients.