Do you want to properly evaluate your customer experience? Then you need end-to-end analytics! It tracks and analyzes their interaction with your product/service, from the first contact to secondary sales. It helps you to build the right marketing strategy, optimize your budget and resources, improve customer contact and increase sales.
Why you need end-to-end analytics
End-to-end analytics tracks different channels of interaction with the customer - websites, social networks, mobile applications, offline/online purchases and so on. The obtained data is collected in one database and analyzed using special algorithms. The results allow you to determine the interests of the target audience (CA), evaluate the effectiveness of advertising, optimize business processes so as to get maximum profit.
Tasks of end-to-end analytics
The main goal of end-to-end analytics is to build an effective marketing strategy and attract a client. To do this, it must solve the following tasks:
determine how much money was spent on marketing (online store creation, website promotion, contextual advertising), what profit each investment brought;
find out what goods/services are in demand, promising areas;
understand how the client interacts with the product at different stages, from familiarization with advertising to delivery of goods and secondary purchase (sales funnel);
identify the main points of contact between the client and the company's product - online, offline store, social networks, Google ads;
study ROMI (return on marketing investment) - find out how effectively the company uses its resources and money, what marketing moves bring the most income, whether website development is necessary;
to determine the quality of employees' work with CA.
All these tasks of end-to-end analytics can be successfully solved only if all channels are set up correctly, the system works smoothly and without failures. For this purpose it is necessary to address to the proven developers, such as IT-company MEGASITE, which are engaged in creation of sites of different orientation, development of Internet-shops, promotion of sites, automation of enterprises.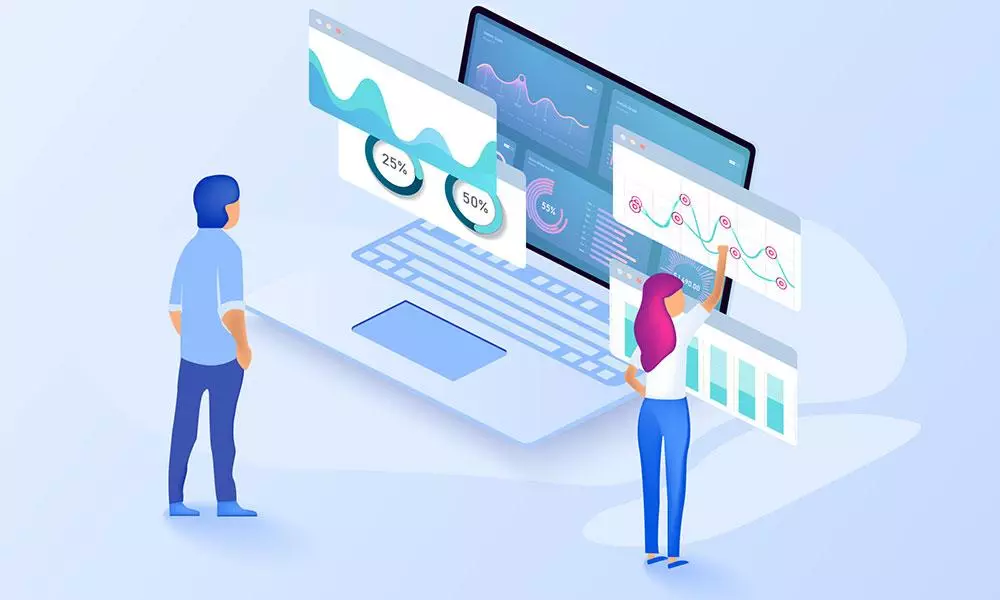 Who needs end-to-end analytics
End-to-end analytics is useful for any business that wants to know its customer, improve interaction with them, increase the effectiveness of their actions, advertising:
business owners will be able to evaluate their company's performance, make strategically important decisions. For example, to determine whether further development of an online store, connection of new platforms for promotion, etc. is necessary;
marketers will improve their advertising strategy, understand which marketing tools and directions are the most promising, and what measures to take to retain customers;
sales managers will track which products are in demand, analyze conversions, optimize sales funnels;
analysts will be able to identify the latest trends, trends that will help to move forward and successfully develop the business.
Without effective analytics, there is a high probability that a company will lose customers if it does not work with them effectively. Therefore, even small businesses cannot do without end-to-end tracking to increase sales.
How end-to-end analytics works
End-to-end tracking is built on the basis of a program that collects information:
Excel or Google Sheets - an option for young businesses, as a lot of work is done manually. The human factor cannot be excluded, when it is possible to make mistakes when entering data or analyzing information. Accordingly, the result based on such data will be inaccurate;
Google Analytics is a popular tool that tracks user activity on websites. Data about offline activity of clients, mobile applications must be uploaded manually. The tool has limited capabilities, so it is impossible to accurately assess the entire situation. If information comes from different channels, this option is not suitable;
CRM

–

off-the-shelf or custom (individual) development. The system helps to cover different channels through which interaction with the CA takes place. There are many ready-made programs on the market that can be customized depending on the needs of the company. If you have a large business, custom development is more suitable, which will be fully customized for it.
Quality end-to-end tracking cannot be built without CRM integration. This system collects information through websites, social networks, phone calls to the company. All information is sent to the database, a lead (individual card) is created for each client. All data collection processes are fully automated, and the human factor is minimal. This guarantees high speed of information processing, as it saves employees' time.
The next step is to connect the CRM to an end-to-end analytics system (such as amoCRM and Alytics). All information will be sent here, including:
UTM tags for tracking customers - determine where people come to the site from and how they behave, how much time they spent on the page, where they went;
the address of the web page where the request was left;
the identifier of the application form that was filled out;
cookies - they track the actions of website visitors, which allows you to show ads that are interesting for them;
special tags that track the user (Google, Facebook).
All this information will be automatically sent for analysis. The settings of end-to-end analytics provide for certain filters through which it will pass (age, gender, type of activity, etc.). Web analysts will extract the necessary data and provide a report, charts and graphs, based on which the company will develop its activities.
Want to set up end-to-end tracking perfectly customized for your business? Leave a request on the MEGASITE website - and get a free consultation on your project. We provide a full range of services for creation and promotion website, enterprise automation, including setting up end-to-end analytics, the data of which will help to stimulate an increase in sales.