Mobile app development for iOS and Android is one of the most promising areas in business, as smartphones are used by more than 70% of the world's population. The main thing is to keep track of trends in order to offer your customers an up-to-date mobile app.
UX design: the latest trends
In 2023-2024, the popular trends in mobile UX design development are:
dark themes;
increased contrast;
adaptive layouts;
gesture recognition;
interesting effects;
experiments with animation;
stylish asymmetry;
large fonts, as long as the rest of the space is used wisely, not "overloaded";
bold, contrasting colors, gradients;
3D images;
click-responsive icons.
Trends in UX design are constantly changing. If you want your application to look stylish and modern, contact a proven developer MEGASITE - web studio in Kiev, where experienced UX designers work, who know all the trends in mobile development, and are able to offer a relevant and interesting product.
Applications with video camera (video communication)
Especially popular in the mobile app industry are programs that allow people to communicate via video calls. Such apps are popular not only because of remote working. People who are far away from each other, it is not enough just to hear the interlocutor, they want to see his face, reaction to the words. Therefore, there is every reason to believe that this trend will be popular for many years to come.
Medical applications and programs for smart watches
More and more people care about their health, so medical applications for smartphones and smartwatches are especially popular. In the first case, indicators often need to be entered manually (blood pressure, pulse), while in the second case everything happens automatically: the device reads data from the hand.
Modern programs analyze the indicators and provide a report on the health of the user. If necessary, they recommend a visit to a doctor. They also give advice on training, warn about overload and so on.
Applications based on artificial intelligence
Another trend is applications based on artificial intelligence. Mobile development has been made possible by the availability of AI tools such as machine learning. Programmers can now create applications that constantly learn and adapt to user behavior and take into account their interests. An example of such a mobile service is Spotify. It makes customized playlists and song recommendations based on the music that the target audience (CA) prefers.
Low-Code and No-Code applications
In the mobile app market, programs that do not require coding skills to create are popular. This optimizes platform development as it saves money and time. There is also a trend towards integrating low-code mobile platforms with technologies such as artificial intelligence, machine learning, and the Internet of Things.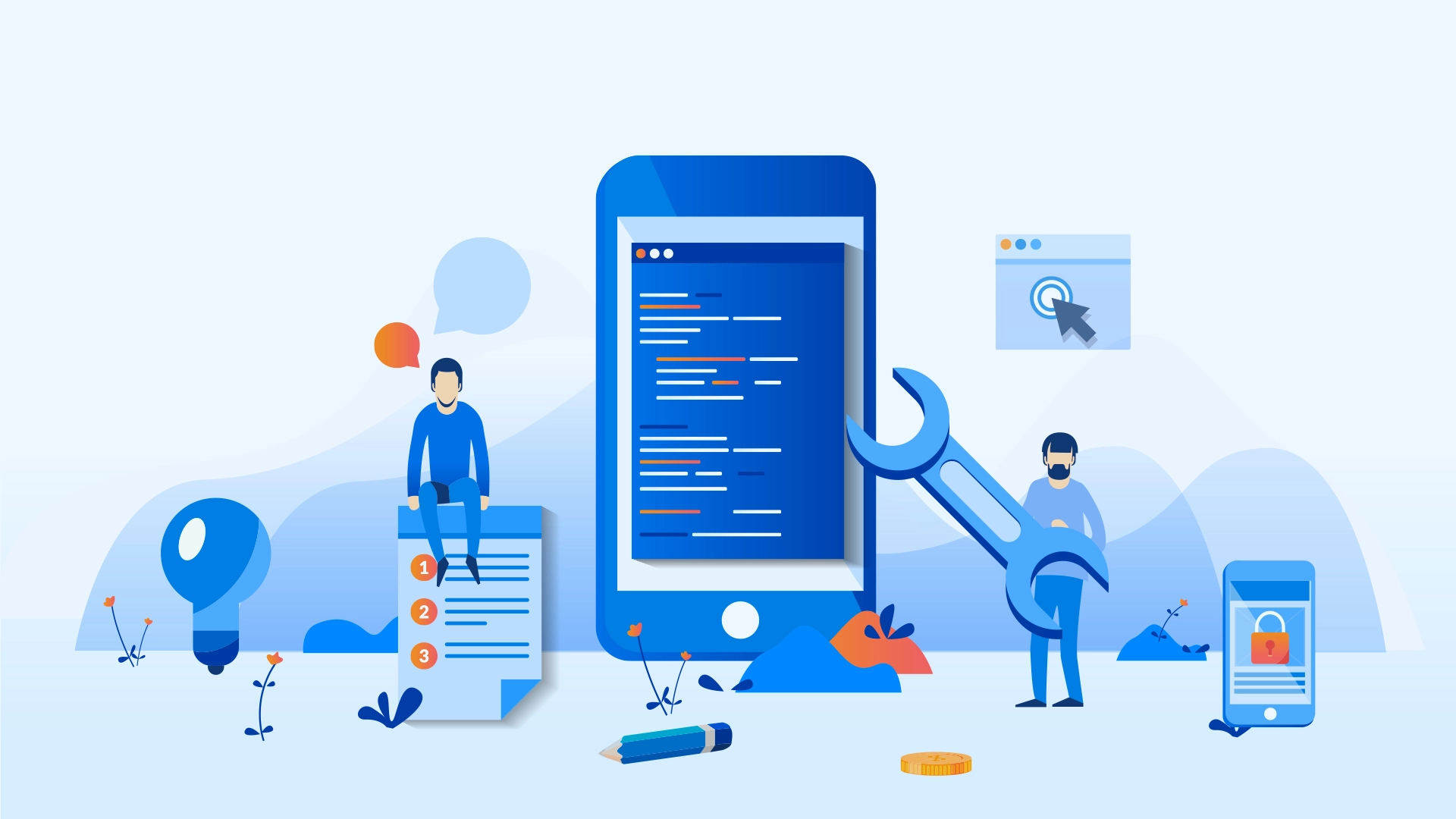 Development trends: mobile banking services (Fintech technologies)
It is convenient for users to pay bills using smartphones, so interest in mobile banking is growing every year. Many startups offer customers favorable conditions due to lower fees than in conventional banks, and in some cases - its absence.
Artificial intelligence plays an important role in the development of applications. It allows offering personalized offers to customers based on their preferences.
It is also important to give the user the opportunity to make a purchase without leaving the app. A service that provides such a service will attract more customers than a program that doesn't have it.
Trends in mobile development: AR-technologies
Innovative augmented reality (AR) technologies are becoming more and more firmly embedded in our lives. They have touched mobile apps as well, as they offer CAs interesting and engaging experiences. For example, a furniture store can offer a mobile service where the user can "see" and "evaluate" how a table from the catalog will look like in his home. The chances that the furniture will not only be purchased, but the customer will return, increase many times over.
Data protection
It is very important that the user's data is reliably protected in mobile, as well as in the web application that opens in Google and other browsers. The slightest leakage of information, viruses - this is the collapse of the project. It is highly probable that users will refuse to download it in favor of more reliable programs.
Therefore, it is not surprising that IT companies are increasingly using DevSecOps methods to develop mobile applications. They involve implementing security best practices at every stage of project development and after launch.
DevSecOps methodology relies on principles such as:
close collaboration between the team that develops the application, handles maintenance and security. Their common goal: to make a high-quality, secure mobile platform;
every member of the team is responsible for the security of the program. When reporting on his work, he tells what security standards he adhered to;
all processes that are responsible for security are automated, requirements are brought to the necessary standards;
teams that are responsible for development, programming, maintenance are constantly improving their knowledge in the field of security;
every stage of work must be tested, including security testing.
It is very important that mobile development is initially entrusted to a proven IT company that complies with all security requirements. Only in this way can you be sure that your data is reliably protected.
Where to order a trending mobile and web application
Want to order an advanced application that meets the latest market trends? Contact IT company MEGASITE. We employ experienced specialists who closely monitor the latest trends and scrupulously approach each stage of work:
we study the market;
we draw up detailed technical specifications both for mobile applications development and for web applications development, which are opened in Google and other browsers;
we develop design taking into account the latest trends;
we carefully consider the functionality;
we pay special attention to the user-friendliness of the application;
carefully test each stage of the work;
we implement a reliable security system in the application;
we provide high-quality technical support.
To contact us, fill out an application form on the website. A manager will call you back and answer all your questions.