Managing an online store is a multi-level process, the efficiency of which determines the number of sales and profit of the business. Thanks to the competent optimization of each stage of work, you can scale sales and reach a new level, ahead of market competitors. In this article we will look in detail at how the business processes of an online store work, how to improve them and thus not only improve the customer experience, but also relieve the burden of managers.
What issues business process optimization solves
Before proceeding to a more detailed consideration of the topic, let's define what we mean by the term "business process optimization".
Optimization of online store business processes is a set of tasks and tools that improve a separate stage or the entire eCommerce activity.
Thanks to competent optimization of business processes in an online store it is possible to:
increase the speed of operations;
Unload managers by automating the same actions;
automate customer acquisition;
build a customer retention system;
process orders quickly;
automate the formation of assortment and prices;
simplify the returns process and so on.
Automation of all processes of an online store allows you to increase efficiency and find the chains that require further development and improvements. In this case, you can optimize even complex tasks online store, such as promotion, logistics and so on.
Optimization of online store business processes most of all demonstrates its effectiveness at the following stages:
marketing;
work with customers;
accounting;
logistics.
It is worth understanding that the decision to optimize the online store should be verified and supported by real shortcomings of this or that chain. Initially, it is necessary to clearly define the scheme of business processes online store, structure it and check. If in the course of work will be identified deficiencies in any of the stages, then optimization is required here. The process of improvement should be approached systematically, eliminating errors step by step.
In which cases optimization of the online store is necessary:
customers are dissatisfied with long processing times for communication and delivery;
routine work operations take up a lot of energy and working time of employees;
lack of traffic inflow to the website.
If such issues arise in the work of an online store, you can't do without analyzing the situation and improving processes.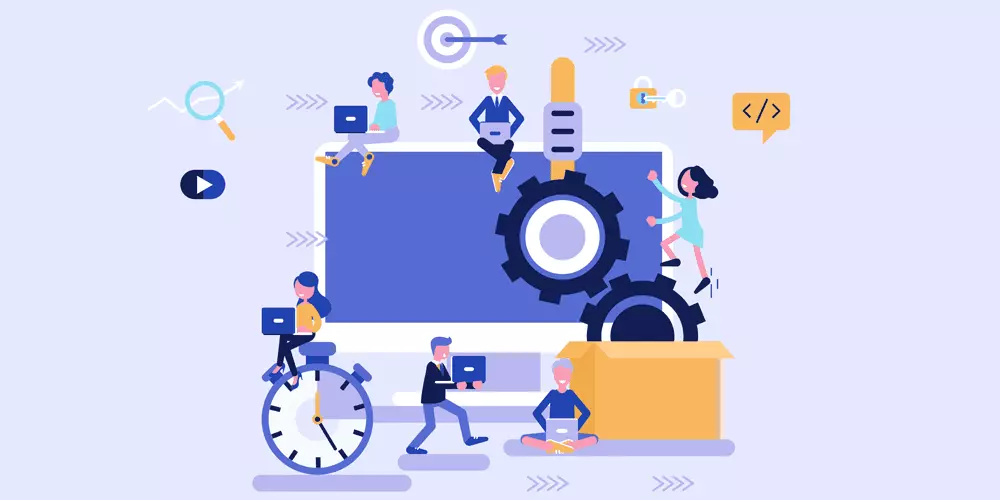 Issues that are solved by optimizing the business processes of the online store
Let's consider in more detail the stages of online commerce, in which new solutions are introduced.
Marketing
Without potential customers there will be no sales, so any online store should pay enough attention to marketing. Here, the working tools become setting up different types of contextual advertising in Google, official pages in social networks with a button to go to the site, SEO-optimization, adding to trading platforms. This allows the business to attract the target audience, building an automatic marketing system.
Customer Service
Optimizing customer service helps to improve customer experience and create a good impression of their work. Customer service includes order confirmation calls, payment follow-up, notifications about every step of the order journey, and resolving disputes.
Customer retention
Customers who have previously purchased from you and were satisfied will be more loyal to the online store and are more likely to choose you again next time. That's why it is so important to set up remarketing - this is the display of advertising with the adjustment on the CA, which has already been on the site, mailings with personalized offers, promotions. Retention tools also include bonus and discount cards.
Assortment formation
Simplifying the search for the right product for the client - one of the main goals of this point. The more convenient and detailed will be the catalog filter, the easier it will be for the customer to find the desired position and, accordingly, to make a purchase. This also includes the use of a price parser, which allows you to collect analytics on the market, and therefore allows the store to be more flexible and make more favorable offers than competitors.
Order processing
This stage includes processing requests from all channels (website, social networks, trading platforms), calls from customers, checking stock availability, confirmation. These business processes in an online store take a significant amount of time, but they lend themselves well to optimization.
Delivery
This stage includes interaction with postal companies, packaging, delivery tracker and so on. You can optimize this process by adding options to the purchase design that allow the customer to choose the courier company, delivery method and so on.
Payment acceptance
Different payment methods are added to the site, which are chosen by the customer at the order stage, and receipts are generated, thus automating accounting.
Working with returns
The percentage of returns is always present, but a lot of time and resources are spent on its processing. Optimization will allow not to overload managers and courier services, while maintaining a positive customer experience.
Many tools for optimizing business processes in an online store can be implemented already at the stage of site development, thus making the task easier in the future. IT company MEGASITE has many years of experience in the implementation of digital solutions and offers its services in the development of online stores of any complexity.
Algorithm for optimizing the work of an online store
The stages of implementation of new solutions in the work of online business are the same for all representatives of the eCommerce sphere. But it is worth remembering that you should move to the automation of online store processes only after a detailed analysis of the business structure.
Steps for implementing improvements:
Setting goals.
Description of all processes.
Determination of efficiency.
Identifying weaknesses.
Designing the desired process.
Implementing the optimization.
Analyzing the results and adjustments.
MEGASITE web studio is engaged in both creation of online stores from scratch and optimization of processes in projects that are already working on the market of Ukraine or other countries. If you are interested in creating a website for your business, we invite you to a free consultation, where we will study your task, make a cost calculation and answer all your questions.