Rating of Ukrainian web studios in 2021
Ukrainian IT-specialists are in demand far beyond the borders of our country, and this trend is only getting stronger. Many agencies offer their services in the field of information technology. To find out which of them are recognized as the best, the rating of Ukrainian web studios in 2021 will help.
MegaSite in IT ratings 2021
Our web studio provides quality services in the digital industry. This confirms the fact that MegaSite occupies a high position in the list of agencies for the development and promotion of sites. We offer you to study the rating of Ukrainian web studios 2021. It was prepared by an independent resource IT-RATING UA. More than a thousand agencies in the field of information technology are registered on this platform. Among all the participants of the resource, MegaSite took the following places in the ranking of web studios in 2021:
Our company was able to achieve high results thanks to the professionalism of the team and the right approach to projects, in which the primary role is played by the study of the client's business, research of the niche and competitors and the search for the most relevant solutions. Only with this approach can you create a resource that will really bring results.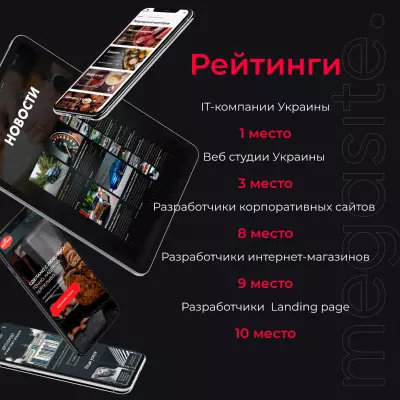 Activities
When looking for a contractor who will develop a web resource, the prices of services should not become a decisive factor. It is important that the work of an IT agency be effective and help the client achieve his goals. The team of specialists of our web studio will help you solve even complex tasks.
We are approached by representatives of small, medium, large businesses in Kyiv and throughout Ukraine. Our main activities:
Work on the creation of sites in different directions requires a close-knit, painstaking work of a team of professionals. Our employees have extensive experience in various projects and follow new trends in the digital industry. Therefore, we provide a full range of services for the creation and promotion of sites, and we guarantee the achievement of the goals.