Site analysis - checking the site for errors
In order for the site to work successfully and make a profit, it needs to be promoted and brought to the top of the search results. A stable income provides high attendance by clicking on links or online sales. Any changes and work to promote the resource begin with an audit. This is a deep check of the site for technical and user-side errors that prevent it from advancing and occupying first positions in the search engine. Having full information about the problems and shortcomings of the resource, it will be easier to make a plan for its development.
Why do you need site analysis?

Website development in Ukraine is currently quite a popular service that everyone can use. Some e-commerce business owners are wondering why SEO site analysis is needed and what it is. Everyone needs to order a WEB-audit, regardless of whether it is a young resource or it has been promoted before.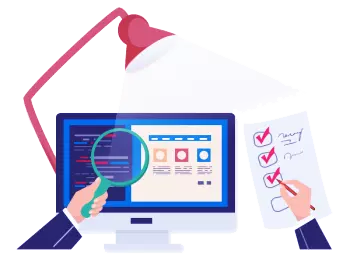 In order for the site to work successfully and make a profit, it needs to be promoted and brought to the top of the search results. A stable income provides high attendance by clicking on links or online sales. There are thousands of resources on the Internet working in one niche, and their number is constantly increasing. Those who are ready to constantly fix errors and do other work to promote the site can take a leading position and make a profit. The first step towards achieving the goal is to order a comprehensive audit from the Kyiv WEB studio, which will allow, based on the information received, to draw up a plan for further work.
The audit is carried out even at the stage of creating a site in Ukraine. Before the resource goes online, checking will help correct the mistakes made initially and launch a competitive option. With this approach, it will be faster to take the first positions. In order to maintain the developed strategy, periodic audits will be required in the future. This helps to increase traffic, which leads to an increase in sales and, accordingly, profits.
In addition to a comprehensive analysis, an express check can be carried out. This type of site audit is a check of one or more areas without a deep study of the details. Express analysis can be carried out using automatic programs.
How is a comprehensive site analysis carried out?

Comprehensive SEO site analysis includes several types of audit.
Technical WEB-audit

Technical audit of the site is an extensive analysis of such items.
Site loading speed. One of the main indicators that keeps visitors. If the site loads more than three seconds, many go to competitors.
Redirects. How redirects are used on the site. Large jump chains reduce download speed.
The absence of broken links that do not lead to the goal.
Adaptation for mobile devices. The resource must work correctly on any device.
Safety. Users need to be sure that their data, payments and the site itself is protected from viruses, hacker attacks, etc.
Working capacity. The resource must be provided with operability regardless of the user's Internet speed and the simultaneous number of site visitors.
Search audit
A search audit of a WEB site is based on optimizing a resource for the requirements of a search engine. This includes finding and correcting errors in system settings, duplicates and parsing URLs for WEB pages with outgoing URL searches, etc. Significance is the presence of registration on popular third-party resources, as well as the ability to search and configure mirror resources. In this case, counters of incoming traffic are taken into account.
Usability audit

Checking the resource for user-friendliness and attractive design. The site should be pleasant and comfortable for visitors to work with, and the resource itself should not create problems.
The usability audit includes such items.
Evaluation of web pages. Users should not be distracted and annoyed by unnecessary information.
Interface. Simple and familiar navigation keeps visitors and allows you to easily find the desired product or general section using the search or menu.
Content. The text should be formatted in compliance with the established rules: have a common heading and subheadings, paragraphs, illustrations. The material is written for people, if it is incomprehensible and hard to perceive, users leave the site.
Design. Stylish and modern design is important for visitors, but there should be no elements that distract from the target actions.
Probability of wrong actions. Everything on the site should be extremely clear even to a novice user, so that there is less chance of making a mistake.
These are the main stages of a site audit during a comprehensive audit; if necessary, each type can be carried out separately for a specific area of ​​the resource.
Checking errors on the site allows you to correct the situation, which positively affects the amount of traffic conversion. After a WEB audit, the work of the resource noticeably improves. There are more real buyers who place orders and are ready to re-use the services of this company.